No technology piece here - this is just about teaching...
Most northern hemisphere classrooms are over for the year by now. Today was the last day with
my third graders
for me in Seattle. It was out of control chaotic - in the best sense, a great way to end the year.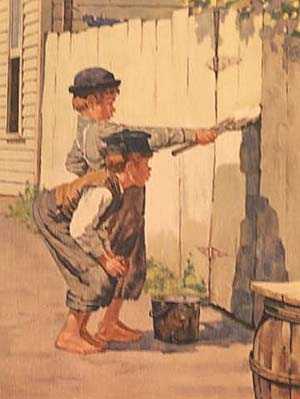 I did my usual last day of school rendition of
Mark Twain's
The Glorious

Whitewasher
- a 10 minute one man skit where I play Aunt Polly,
Tom Sawyer
, and Ben. The tie came off, my shirt got
untucked
, and my sleeves got partly rolled up. It went pretty well, one of my better performances, I'd say. It's nice to give the kids a piece of me that they never get to see, on the last day.
I can't tell you how many times people came up to me today and mentioned my supposed relief and exultation.
Far, far from exultation were the feelings I went through today. I'll miss
my kids
. I wish I had done a better job with them in so many areas.
Teacher angst. It's the part of the job that drives better
instruction
"next year" way more than any other summer course or
inservice
.